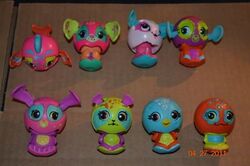 Spinmaster's toy brand Zoobles! was turned into a Happy Meal series at McDonalds.
Zoobles were originally available exclusively at McDonald's locations in Canada and the United States, while a Liv fashion doll Happy Meal series (also based on a Spinmaster product line) was to be available across the world. The toys did get offered by McDonald's Mexico later in the year.
Since 2010, the toy company has been represented in the US by Cartoon Network Enterprises, which has aggressively licensing its brands.
External links
Ad blocker interference detected!
Wikia is a free-to-use site that makes money from advertising. We have a modified experience for viewers using ad blockers

Wikia is not accessible if you've made further modifications. Remove the custom ad blocker rule(s) and the page will load as expected.