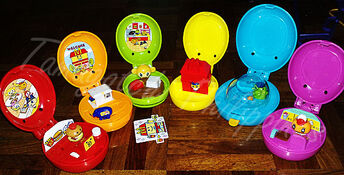 McDonald's Japan released their first set of Tamagotchi Happy Meals in 2008. It was to promote Tamagotchi no KiraKira Omisecchi, which features a McDonald's restaurant in it. In Japan, the toys were blind-boxed, so you couldn't tell which toy you were getting, since the special toy was Makdotchi.
Toys
Memetchi Dessert Time
Kuchipatchi Burger Flip
Mametchi McDonald's House
Kikitchi Meal Time
Mametchi Drive-Through
Makdotchi McDonald's
Ad blocker interference detected!
Wikia is a free-to-use site that makes money from advertising. We have a modified experience for viewers using ad blockers

Wikia is not accessible if you've made further modifications. Remove the custom ad blocker rule(s) and the page will load as expected.