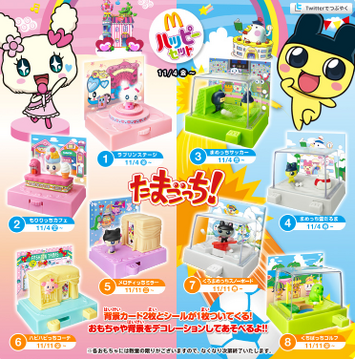 For the 1st half of November 2011, McDonald's Japan has Tamagotchi dioramas, and like last year's promotion (
Tamagotchi! (McDonalds Japan, 2010)
), the set was divided into girl toys and boy toys.
They were released to celebrate 15 years of Tamagotchi toys in Japan.
Toys
For Girls:
Lovelin's Stage
Tamamoritchi's Ice Cream stand
Melodytchi's Mirror
Hapihapitchi's Dress Up Machine
For Boys:
Mametchi Soccer
Mametchi Snowball Fight
Kuromametchi Snowboard
Kuchipatchi Golf
Ad blocker interference detected!
Wikia is a free-to-use site that makes money from advertising. We have a modified experience for viewers using ad blockers

Wikia is not accessible if you've made further modifications. Remove the custom ad blocker rule(s) and the page will load as expected.