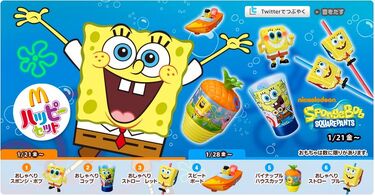 thumb|300px|right thumb|300px|right|A slightly modified ad for the SpongeBob SquarePants Happy Set.Nick Japan website for the toys] Nickelodeon SpongeBob SquarePants ran as a Happy Set toy in McDonald's Japan the weeks of January 21 to January 27 and January 28 to February 3, 2011. A t-shirt was available for purchase January 21 to February 12.
Japanese model IMALU appeared at a press event to announce the toys.
There is an internet meme involving this ad called the "Insane Set", a pun on the kid's reactions to the toys and the Japanese name of the Happy Meal. Which is called a "Happy Set".
External links
Ad blocker interference detected!
Wikia is a free-to-use site that makes money from advertising. We have a modified experience for viewers using ad blockers

Wikia is not accessible if you've made further modifications. Remove the custom ad blocker rule(s) and the page will load as expected.