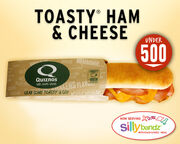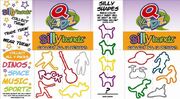 Silly Bandz elastic bracelets were featured with Q Kids meals in The promotion started on September 28, 2010, and continued until at least January 8, 2012. They had the exclusive 2010 fast food license on the product.
Space

Saturn
space shuttle
astronaut

Sportz (Sports in the press release)

baseball player batting
football player running

Dinos (Dinosaurs in the press release)
Music (Rock 'n Roll in the press release)

the word "ROCK"
drum set
electric guitar
External links
Ad blocker interference detected!
Wikia is a free-to-use site that makes money from advertising. We have a modified experience for viewers using ad blockers

Wikia is not accessible if you've made further modifications. Remove the custom ad blocker rule(s) and the page will load as expected.