Toys of Pretty Cure Max Heart (ふたりはプリキュアマックスハート) were given out at McDonalds Japan in 2006. This was to promote the 2nd Max Heart movie and to call attention to the new Splash Star series. Stickers from said series were given away alongside the toys.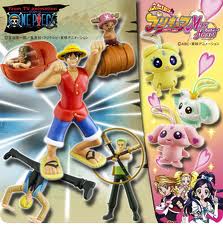 The boy toys were from the anime series One Piece.
Toys
1. Mepple (yellow)
2. Porun (white)
3. Mipple (pink)
Ad blocker interference detected!
Wikia is a free-to-use site that makes money from advertising. We have a modified experience for viewers using ad blockers

Wikia is not accessible if you've made further modifications. Remove the custom ad blocker rule(s) and the page will load as expected.