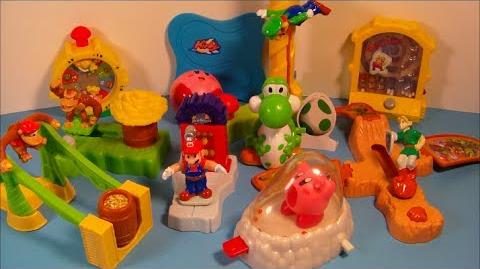 Burger King offered Nintendo Superstars toys, from 13 February to 31 March 2002.
Toys
Race Around Princess Peach and Browser
Kirby's Maze Adventure
Water World Wario
Shield Spinnin' Link
Kirby's Ball Toss
Hop "N" Slide Diddy Kong
Coin Collecter Mario Sunshine
Donkey Kong Time Racer
Egg Hunter Yoshi
Soar "N" Chase Luigi
Section heading
1.Mario Sunshine
Section heading
Gold Toy 
Ad blocker interference detected!
Wikia is a free-to-use site that makes money from advertising. We have a modified experience for viewers using ad blockers

Wikia is not accessible if you've made further modifications. Remove the custom ad blocker rule(s) and the page will load as expected.