From March 1 to March 31 (while stock lasts), These Jollibee Kids Meal Toys will be available in Jollibee stores in the Philippines. The toys are based on Little Miss Chatterbox and Little Miss Princess.
These toys ran opposite to Batman The Brave and the Bold Collection.
Little Miss Chatterbox Hair Kit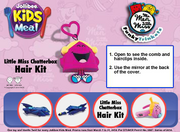 1. Open to see the comb and hairclips inside.
2. Use the mirror at the back of the cover.
Little Miss Princess Watch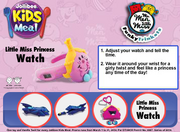 1. Adjust your watch and tell the time.
2. Wear it around your wrist for a girly twist and feel like a princess at anytime of the day!
Ad blocker interference detected!
Wikia is a free-to-use site that makes money from advertising. We have a modified experience for viewers using ad blockers

Wikia is not accessible if you've made further modifications. Remove the custom ad blocker rule(s) and the page will load as expected.