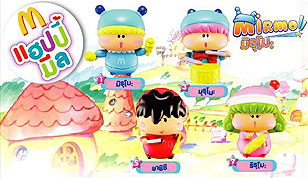 In 2005 McDonald's offered a set of four toys based on the anime Mirmo! (Mirumo de Pon!) in Asia. The four have winding keys behind their heads that makes them move their musical instruments.
Releases
Toys
References
Ad blocker interference detected!
Wikia is a free-to-use site that makes money from advertising. We have a modified experience for viewers using ad blockers

Wikia is not accessible if you've made further modifications. Remove the custom ad blocker rule(s) and the page will load as expected.