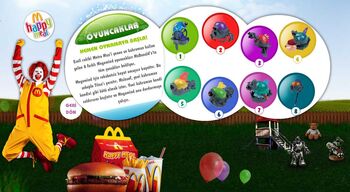 McDonald's ran various Megamind toy series around the world, as part of their Happy Meals.
McDonald's Turkey ran a series of 8 toys based on DreamWorks movie Megamind, while only 6 of these ran in Germany.
The toys were:
Fan Brainbot
Bulldog Brainbot
Snapper Brainbot
Lens Brainbot
Light Effects Brainbot
Voice Distorted Brainbot
Message Brainbot
Light Writer Brainbot
Oddly, the toy names were all in English, not Turkish.
See Megamind (McDonald's, 2010) for the North American toy series.
Ad blocker interference detected!
Wikia is a free-to-use site that makes money from advertising. We have a modified experience for viewers using ad blockers

Wikia is not accessible if you've made further modifications. Remove the custom ad blocker rule(s) and the page will load as expected.