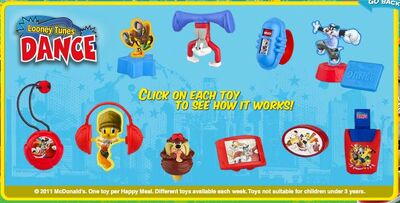 Looney Tunes Dance
was a Happy Meal toy series at McDonald's Australia and McDonald's New Zealand, in June 2011. It was specifically in promotion of
The Looney Tunes Show
, a new TV series with the characters.
Spin-Out Daffy Duck
Bugs Bunny Pop Dancer
Wrist Dance Pod
Sylvester Break Dancer
Dancer Belt Bag
Flashing Hip Clip
Bling Ring
DJ Tasmanian Devil
Tweety Headphone Dancer
Body Beat Pendant
Ad blocker interference detected!
Wikia is a free-to-use site that makes money from advertising. We have a modified experience for viewers using ad blockers

Wikia is not accessible if you've made further modifications. Remove the custom ad blocker rule(s) and the page will load as expected.