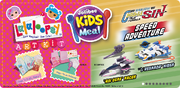 From February 1 to February 28 (while stock lasts), These Jollibee Kids Meal Toys will be available in Jollibee stores in the Philippines. The toys are based on Mittens Fluff 'N' Stuff and Pillow Featherbed.
These toys ran opposite to Cyber Formula Speed Adventure.
Cute 'n Crafty Diary
Write notes and draw pictures using your colored pencils.
Happy House Notebook
Write or draw on the paper using your pen.
Ad blocker interference detected!
Wikia is a free-to-use site that makes money from advertising. We have a modified experience for viewers using ad blockers

Wikia is not accessible if you've made further modifications. Remove the custom ad blocker rule(s) and the page will load as expected.