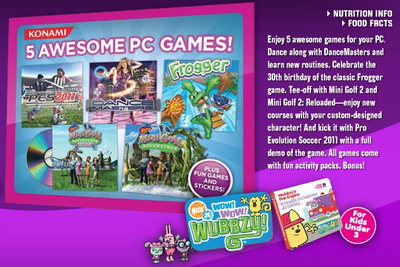 Five titles from video game publisher Konami were offered at Taco Bell in October to at least late November 2011.
Pro Evolution Soccer 2011 (PES 2011)
DanceMasters
Frogger
Mini-Golf Adventures 2
Mini-Golf Adventures 2: Reloaded
The under 3 toy at the time was Wubbzy's Fire Engine.
Ad blocker interference detected!
Wikia is a free-to-use site that makes money from advertising. We have a modified experience for viewers using ad blockers

Wikia is not accessible if you've made further modifications. Remove the custom ad blocker rule(s) and the page will load as expected.