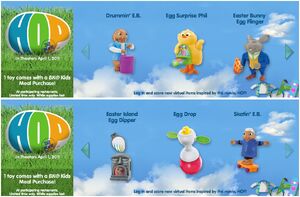 Burger King offered Hop BK Kids Meals toys near Easter 2011 in North America, and fall 2011 in Argentina.
This is the second time Burger King made ownership with Universal Pictures' sibling company, Imagine Entertainment.
Toys
The "Hop" line offered six different toys.
1. Drummin' E.B.: Pull Eb's string and he does drumming noises and movement 2. Skatin' EB: The fail toy of the group. Push EB down and he falls or 360 spin. He also rolls. 3. Egg Drop: Some top thingie
Internationally
Argentina: as of mid-October 2011, all six toys
Canada: March 28 to April 24, 2011, all six toys
United States: March 28 to April 24, 2011, all six toys
In Australia, Hungry Jack's had a different toy series.
Ad blocker interference detected!
Wikia is a free-to-use site that makes money from advertising. We have a modified experience for viewers using ad blockers

Wikia is not accessible if you've made further modifications. Remove the custom ad blocker rule(s) and the page will load as expected.