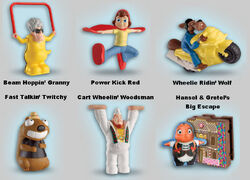 Hoodwinked Too! Hood vs. Evil was a January 2011 Burger King kids meal toy series. A dispute amongst the producers of the movie prevented the movie from being released on schedule; there is now a tentative April 29, 2011 release date.
Hansel and Gretel's Big Escape
Fast Talkin' Twitchy
Cart Wheelin' Woodsman
Beam Hoppin' Granny
Power Kick Red
Wheelie Ridin' Wolf
Ad blocker interference detected!
Wikia is a free-to-use site that makes money from advertising. We have a modified experience for viewers using ad blockers

Wikia is not accessible if you've made further modifications. Remove the custom ad blocker rule(s) and the page will load as expected.