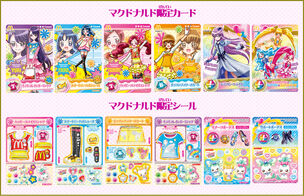 In 2010, McDonald's Japan gave away McDonald's exclusive Heartcatch Pretty Cure Carddass cards for the Carddass Pretty Cure arcade game to promote the Heartcatch Pretty Cure movie.
The promotion ran October 22 to November 3, 2010.
Toys
Yuri
Erika
Tsubomi
Itsuki
Cure Moonlight
Cure Blossom, Cure Marine and Cure Sunshine
Each toy also came with a set of stickers.
Ad blocker interference detected!
Wikia is a free-to-use site that makes money from advertising. We have a modified experience for viewers using ad blockers

Wikia is not accessible if you've made further modifications. Remove the custom ad blocker rule(s) and the page will load as expected.