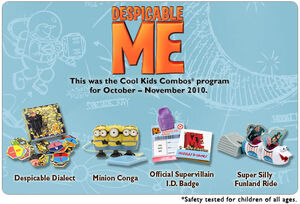 Despicable Me was promoted by Carl's Jr. & Hardee's for the film's DVD release in December, yet the promotion was October 2010 thur November 2010. The toys set is a set of four.
Toys
Flip Puzzle: A 2-sided puzzle with directions in the box.
Minions Conga Line: A walker with a plastic figure of three Minions.
Clip with Activity Book: A purple clip with a identity tag & an activity book.
Super Silly Funland Ride: A launcher with a plasic figure of the roller coaster, plus a 2D stand of Gru and the three orphans.
Ad blocker interference detected!
Wikia is a free-to-use site that makes money from advertising. We have a modified experience for viewers using ad blockers

Wikia is not accessible if you've made further modifications. Remove the custom ad blocker rule(s) and the page will load as expected.