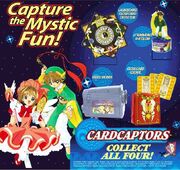 In January 2002, Taco Bell gave away Cardcaptors toys based on the anime of the same name
Toys
Lasin Board Clow Card Detector
Li Summons the Glow
Video Viewer
Clow Card Escape
The under 3 toy was a Kero plush doll.
Controversy
The "conservative Christian political orientation" American Family Association complained about the Cardcaptors promotion as the organization felt the Clow Cards in the series were too similar to tarot cards and Eastern mythology. The complaints came in when the promotion was scheduled to end, so it is unknown if the complaints had any effect.
Ad blocker interference detected!
Wikia is a free-to-use site that makes money from advertising. We have a modified experience for viewers using ad blockers

Wikia is not accessible if you've made further modifications. Remove the custom ad blocker rule(s) and the page will load as expected.