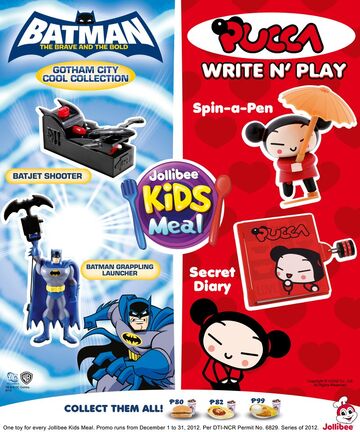 For December 2012 Jollibee had Batman the Brave and the Bold and Pucca toys. It was available from December 1 to December 31 2012. Jollibee Kids Meal presents the Batman: The Brave and the Bold-Gotham City Cool Collection for boys and the Pucca Write N' Play toy set for girls.
Batman:Brave and the Bold
Boys can join Batman to save Gotham City with the Grappling Launcher . Attach the grappler to Batman's hand, aim by moving his arm up and down, then press the button to release the launcher. Zoom through the streets of Gotham City with the Batjet Shooter. Attach the wings to the side of the Batjet and place it on the ramp, then hit the button to launch the Batjet to defeat the Super-Villains.
Pucca
Girls can have fun with Pucca as their best pal with her exciting Write N' Play  toy set. Have fun twirling while getting creative with the Pucca Spin a Pen. Make the umbrella spin by pressing Pucca's feet together and remove the cover on top of the umbrella to use the pen. Write your thoughts and doodle fancy objects in the Pucca Secret Diary . It has a charming lock that only opens when you spell Pucca's name correctly. Also, inside are adorable Pucca stickers that you can use to decorate your diary or share with friends.
Ad blocker interference detected!
Wikia is a free-to-use site that makes money from advertising. We have a modified experience for viewers using ad blockers

Wikia is not accessible if you've made further modifications. Remove the custom ad blocker rule(s) and the page will load as expected.