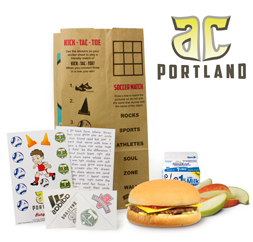 Non-profit soccer organization AC Portland was featured by Burgerville Kids Menu in 2012.
As of January 9, 2012, Burgerville offered
According to their website:
"
Burgerville has partnered with AC Portland to make a difference in the lives of local youth.

In December, every kids meal comes in a bag with fun activities on the outside and either temporary tattoos or stickers on the inside.

AC Portland is a nonprofit organization that promotes positive youth and community development through soccer, scholarship and service. Learn more - and get involved - at ACPortland.org.

"
Ad blocker interference detected!
Wikia is a free-to-use site that makes money from advertising. We have a modified experience for viewers using ad blockers

Wikia is not accessible if you've made further modifications. Remove the custom ad blocker rule(s) and the page will load as expected.